The way to the Aloft Hotel in Stuttgart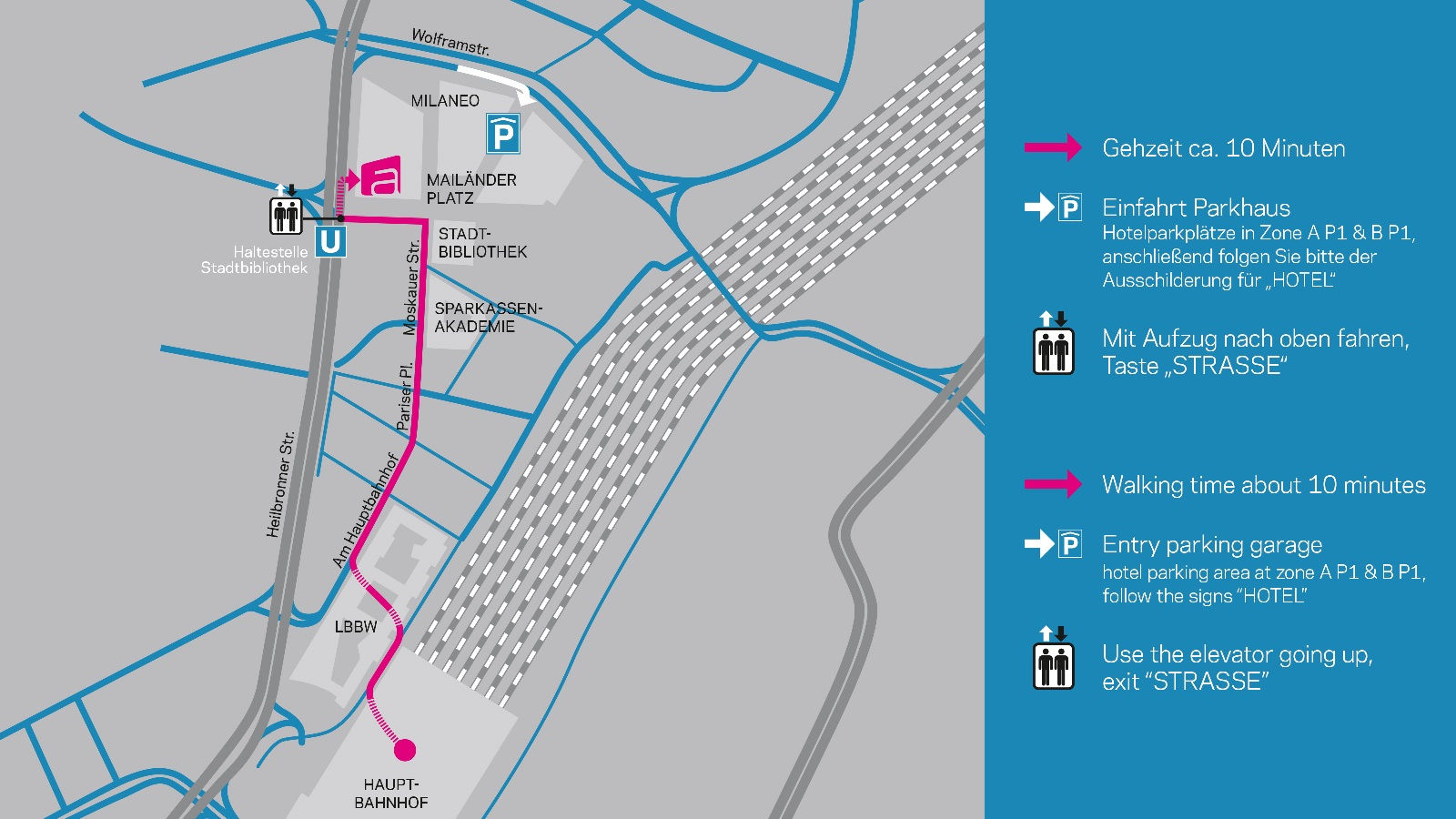 Find Aloft Stuttgart quick & easy
Do you want to walk from the hotel to the train station in 5 minutes? No problem. The newly built Aloft in the Milaneo is just one U-Bahn stop from the main railway station. The journey takes 2 minutes. You can easily reach the train station by public transport, on foot or by car. If you want to walk, the path leads you through the Europa district. The route avoids major roads and is easy to follow. When existing the hotel you can either use the elevator in front of the hotel or need to cross the street for accessing the subway.
Airport
Stuttgart Airport is about 15 km south of the Milaneo and is easily accessible by car via the B27 and E52. Using public transport (S-Bahn, U-Bahn and the bus) the ride from the hotel takes a maximum of 45 minutes. The fare for the 3 zones is less than €4. Public transport is available from the nearby station at the City Library to the main railway station at regular intervals at weekends too.
Taxis
Due to the steep streets in Stuttgart, it helps to have strong legs. For those who prefer a more convenient mode of transport, taxis and large taxis are easily accessible for a small extra cost.
For sightseeing in summer it is worth enjoying the view from the backseat of the pedicabs.
Parking
Secure parking is available in zone AP 1 or BP 1 of the public Milaneo shopping centre car park and 24 hours accessible. An entrance to the hotel is located in Zone A P1 near the exit. Parking costs € 25/day or € 2/hour and needs to be paid in the car park. Please validate your ticket within the first 24 hours as a "day ticket" at the pay machine. The GPS address for hotel parking is: Wolframstr. 35, 70191 Stuttgart.
****


SPECIAL CONDITIONS
Parking Garage Maintenance 2017
During the weeks of August 7 and November 6, 2017, the attached Milaneo parking garage will be undergoing maintenance and entering might not always be possible. Maintenance will take place in short windows and guests will still be able to retrieve their vehicles throughout these times. Please contact the hotel for further information.
CW 32:
In the nights from 7th August - 8th August and 8th August - 9th August the tunnel will be closed between 10 pm and 6 am. It is possible to exit in this time.
****
All other areas have limited opening times:
Mon. - Tue. & Sat.: 7 AM - 9:30 PM
Friday: 7 AM - 10:30 PM
Sunday: Closed
For accessing a car outside the opening times an extra service fee of € 58 will be charged. Please note that motorbikes are not allowed to enter the car park.
Distances from the hotel
Culture & Art
Opera House 1.6 km/1.0 Miles
Landesmuseum Baden-Württemberg 2.1 km/1.3 Miles
Modern Art Museum 2.5 km/1.5 Miles
Stadtbibliothek 0.1 km/0.1 Miles
Carl-Zeiss Planetarium 1.1 km/0.7 Miles
Transport
Main Railway Station Stuttgart 0.5 km/0.3 Miles
Airport Stuttgart 14.6 km/9.1 Miles
Trade Show Stuttgart 14.6 km/9.1 Miles
Headquarters
Sparkassenakademie Baden-Württemberg 0.1 km/0.1 Miles
Sparda-Bank Baden-Württemberg eG 0.5 km/0.3 Miles
Landesbank Baden-Württemberg LBBW 0.5 km/0.3 Miles
PriceWaterhouseCooopers AG 1.1 km/0.7 Miles
KPMG AG 1.5 km/0.9 Miles
BearingPoint GmbH 1.8 km/1.1 Miles
Württembergische Versicherung 2.9 km/1.8 Miles
Porsche AG Zuffenhausen 8.9 km/5.5 Miles
Daimler AG 9.9 km/6.2 Miles
Robert Bosch GmbH 18.6 km/11.6 Miles
Börse Stuttgart 1.5 km/0.9 Miles
Sights
Milaneo Shopping Centre 0.0 km/0.0 Miles
Shopping on Königstraße 1.0 km/0.6 Miles
Schlossgarten 1.2 km/0.8 Miles
Altes Schloss 2.1 km/1.3 Miles
Christmas market 2.6 km/1.6 Miles
Cannstatter Wasen – Bierfest 5.2 km/3.2 Miles
Schloss Ludwigsburg 14.4 km/8.9 Miles
SI-Centrum 8.7 km/5.4 Miles
Wagenhallen 0.9 km/0.5 Miles
Zoologisch-botanischer Garten Wilhelma 5.0 km/3.1 Miles
Kulturzentrum Merlin e.V. 3.3 km/2.1 Miles
Weißenhofsiedlung 1.5 km/0.9 Miles